the foothills of the Sierra Nevada ...
This nineteenth century Craftsman farmhouse is 1700 square feet and has been fully remodeled while retaining all of it's past charm. Enjoy the history of this amazing property with appreciation to the hardwood flooring, original windows, and wainscoting of this historical home. The large open kitchen is ready for your getaway complete with well-appointed pantry items. Outside you'll be greeted with private deck, pergola covered eating area and a stream that runs through the property. An outdoor wood stove and hot tub will compliment your desire to relax and unwind.
There are three bedrooms and two baths accommodating groups up to six. Each bedroom has direct access to an en-suite or adjoining bathroom for the in ultimate convenience. The home is complete with a flat-screen television that includes Netflix and Amazon accounts. The open dining room allows for wholesome family dinners or the planning of your daily activities.
Situated on one full acre adjacent to conservatory land with grazing horses bordering the property. The Farmhouse has a large outdoor space complimented by a mini orchard and seasonal vegetable garden. The lawn area is vast and perfect for a game of croquet or honing your slacklining skills.
"small town with big backyard" ...
The town of Bishop is less than two square miles yet appeals to endless user groups, visitors, and community members. The eastern Sierra Nevada lends itself to some of the best hiking, rock climbing, and fresh water fishing in the western United States. Bishop is a town rich with tradition featuring local events that include Mule Days, the annual Tri-County Fair, and the very popular American Alpine Club AAC Bishop Highball Craggin' Classic, plus the Blake Jones Trout Derby. Trailhead access through Bishop gets you to 14,000-foot mountains and the renowned John Muir trail. Neighboring location Mammoth Mountain is a world class resort for skiing and snowboarding. Bishop is also the gateway to Death Valley and Mount Whitney and provides a great starting point for runners, tourists, and hikers.
Fun Fact: Bishop is located in Inyo Country, of which only 1.7% is privately held land located along the scenic byway of Highway 395. Bishop is surrounded by public lands and is the perfect base camp location for visitors seeking high-sierra alpine climbing, bouldering in the Buttermilk or Tablelands, or roped climbing the popular Owens River Gorge and Pine Creek areas.
Downtown Bishop is very much a walking town with shops, art galleries and eateries to explore. You might even have a chance to take in the latest and greatest blockbuster at the local twin theater! Whatever your vacation wishes, the Farmhouse is ideally suited for hanging out, reading books, rock climbing, snowboarding, fishing, rodeo, or horseback riding. Start your exploration of the majestic surroundings from here.
Rates
Standard Rates
$ 195/night
Three Night Minimum
$1200/week
$4300/month
Holidays
$ 250/night
Three Night Minimum
Guests Occupancy
Rates are based on double occupancy
$ 25 extra per person per night
Accommodates Up to Six Guests
Pets Considered (Fee Required)
Fees and Deposits
$ 125 Cleaning Fee Per Reservation
$ 600 Refundable Security/DamageDeposit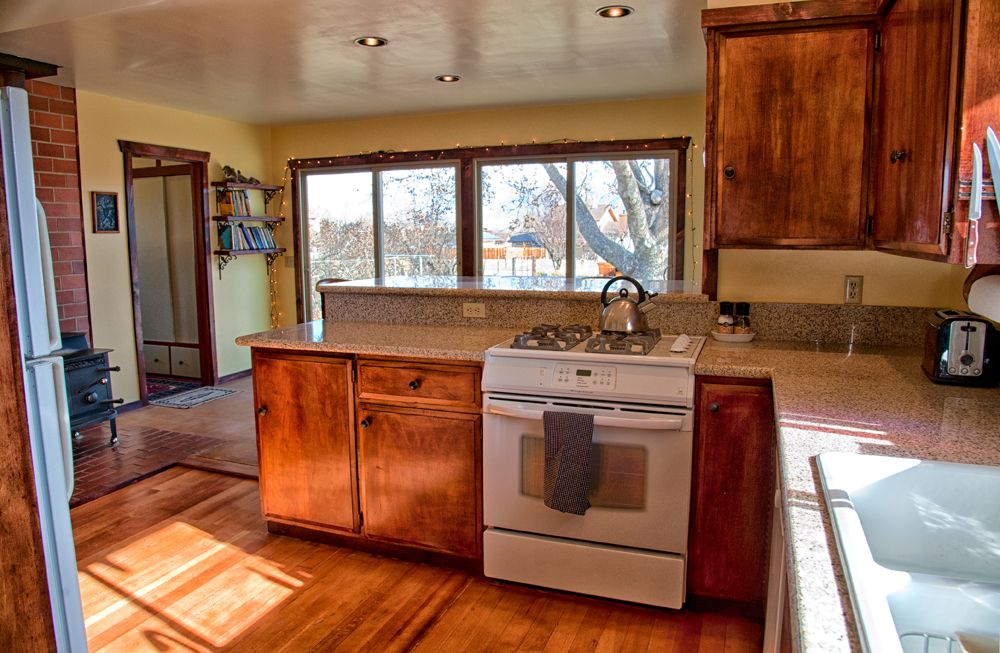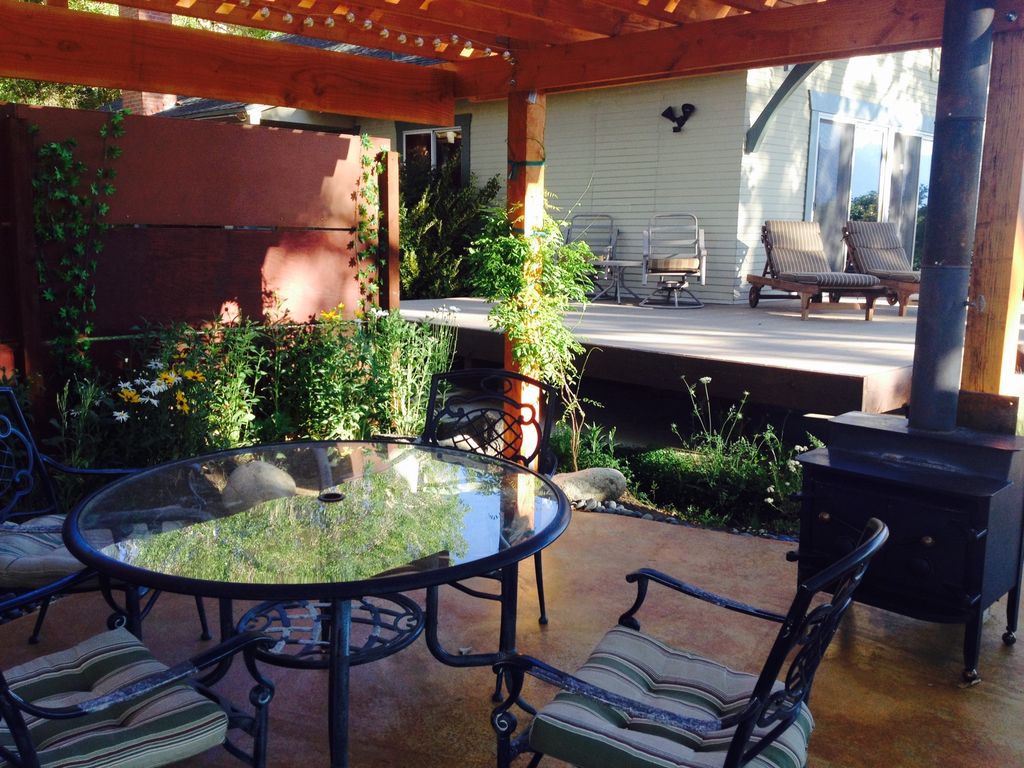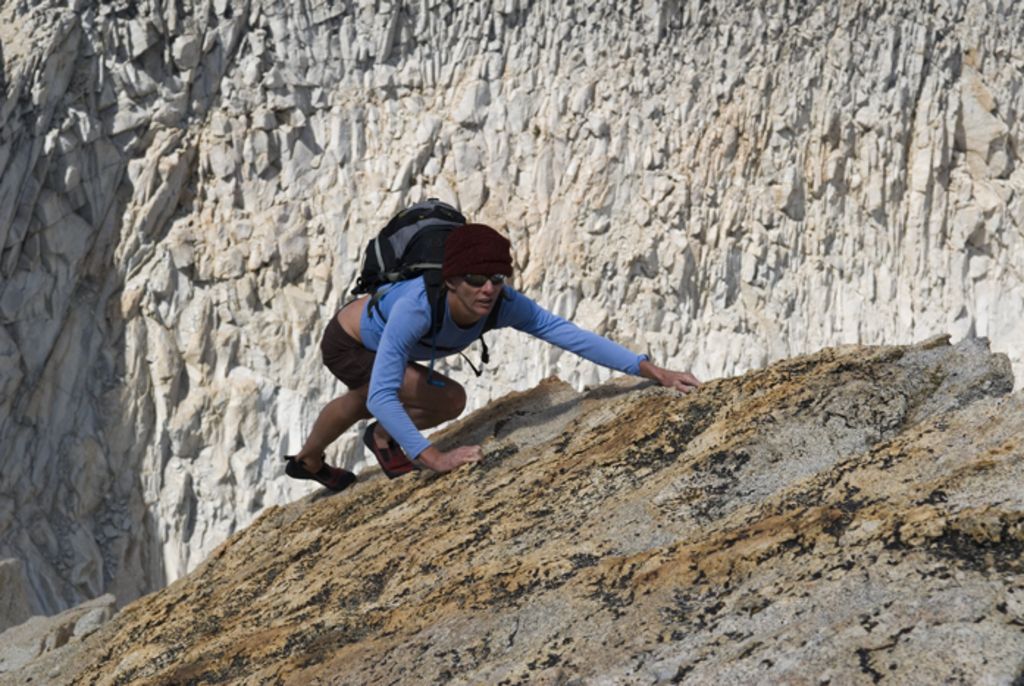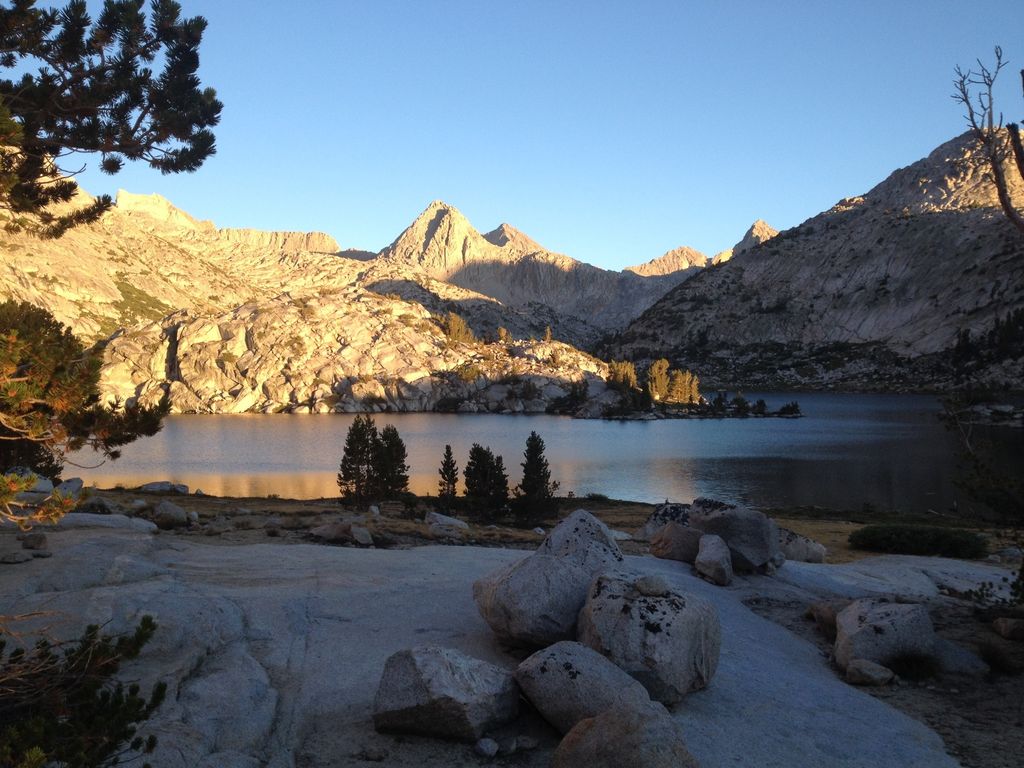 Amenities
• Sleeps up to Six Guests
• Fully Furnished
• 3 Bedroom, 2 Bathroom
• Linens Provided
• Master King Bedroom - en Suite Bathroom
• Guest King Bedroom - shared connected Bathroom
• Guest Full Bedroom - connected shared Bathroom
• Complimentary shampoo / conditioner / body soap
• Paper Products and Detergent Supply
• FlatscreenTelevision
• Bluray Player - Netflix and Amazon
• Hi-speed WiFi Internet
• Covered Patio with Seating
• Gas Barbecue Grill
• Laundry Room
• Evaporative Cooling
• Wood Burning Fireplace
• Ducted AC/Heater
• Jacuzzi Spa Hot Tub

Kitchen
• Full-size Refrigerator
• Gas Range/Oven
• Microwave
• Dishwasher
• Garbage Disposal
• Drip Coffee Maker
• Coffee and Teas
• Kettle
• Toaster
• Hand-mixer
• Ample Cookware and Utensils
• Bakeware
• Place Settings for Ten
• Foil - Baggies - Convenience Supplies
• Pantry Items - Spices, Oil, Sugar
• Dining Seating for Six
reviews
.. delightful craftsman bungalow is a relaxing homebase for your Eastern Sierra adventure!
"My friends and I enjoyed our stay at this beautiful, quiet three bedroom craftsman bungalow one and a half miles from the the center of Bishop. The house is tastefully decorated with living and dining rooms that comfortably sit six including a wood-burning fireplace and flat screen TV. Our group enjoyed preparing meals together in the large well stocked kitchen which included nice sharp knives. Each of the three bedrooms has a very comfortable, firm bed. We soaked in the outdoor jacuzzi on the back deck while viewing the desert sky. There is also a nice outdoor grill and shaded eating area that we did not use because it was chilly."
~Sheila
Fantastic property in a lovely setting. Owners are great too.
"Three couples had a wonderful relaxing fun stay"
~ Mike & Susan, AZ
Gorgeous Home
"Amazing place to stay! It was hard to leave. We'll be back for sure!"
~Lucian
This beautiful old farmhouse in Bishop has it all..
"…beginning with quiet, comfortable porches on three sides with great views of the Sierras, the Whites and farmland and animals grazing. The first thing we saw when we pulled in the driveway was an acre of green grass, old cottonwoods, black-eyed Susans and Queen Anne's lace everywhere. And a stream through the backyard. Even an apricot tree for snacking. The gorgeous inside equalled the outside - craftsman woodwork, hardwood floors, tasteful furnishings, comfy beds, great shower, modern and well-appointed kitchen. Karen and Steve really wanted us to enjoy ourselves!!
We were charmed by Bishop itself as well. We've been here many times but on a "pass through" basis. This time Bishop was the destination. The used bookstore in town (you are only minutes away from anything in Bishop) Range & River Books, was fantastic. Whole walls of books on the West, great fiction selection too. And the owner Diane charmed us with her kindness to customers young and old. Manor Market -- What a find!! Like Whole Foods on a smaller scale and minutes away. Burger Barn (for meat eaters) can't be beat anywhere - check out their equal opportunity "drive through" :-)) Also check out the Coons Gallery! We hope to be back again and again to this house with so much character and charm, and this great town."
~ Christy, Palm Springs CA
… too good to be true.
"My family and I have stayed in the farm house several times and in all seasons. The house is too good to be true really. Such country charm and very quiet location, well stocked kitchen, comfortable beds, just to name a few. The scenery from all sides of the house is incredible. The back yard has a jacuzzi, bbq, outdoor seating and nice deck with a view of white mountain. The town and restaurants are 10 minutes one direction with the sierras and lakes 10 minutes another direction. Karen, the owner, is very accommodating and efficient. Honestly, you will not be disappointed with any part of your stay here. "
~ Candace, Dana Point CA
Peaceful.. old world charm
"We had a wonderful stay at the farm house its way more than i imagined clean and comfortable with old world charm. Everything we needed for our stay. Karen was easy to work with and our stay was great. I would highly recommend this rental.Close to town but yet felt like we were in the country. So very peaceful sitting on the deck watching morning sunrise over the mountains.We have family in town so well be back many more times way better than hotel rooms and well worth the price.This place is the best!"
~ Sandra
We hope to stay again!!
"My family and I stayed in the Bishop Farmhouse and had a wonderful time. We found the house to be well stocked and very comfortable!"
~ Cece
Great home
"We really enjoyed our stay at the farmhouse. It was so clean and comfortable; it was perfect for the four us. We ate our meals outside on the beautiful patio and even used the bbq to grill up some steaks one night. Downtown and all the shops and restaurants are close enough for a 10 minute bike ride. We would definitely stay here again!"
~ Lisa