The Desert Breeze Oasis, our Sullivan Cabin, is the perfect mix of a rural setting with convenient living when you seek a Joshua Tree vacation rental. This wonderfully appointed Jackrabbit cabin is not far from the Indian Cove area of Joshua Tree National Park or the MCAGCC 29 Palms Marine Base. A peaceful setting on ten private acres with mountain views, outdoor living space, and wonderful gardens that are not sacrificed with a long drive to town when exploring the Park, excursions to Pioneertown or other interests of the Morongo Basin.
The oversized cabin sleeps up to four people (six when utilizing the cottage bunkhouse) with an open floor-plan for entertaining. A dedicated bedroom with king-size bed with separate full-size, all foam, sofa-sleeper for additional guests in the flex space. If you're unable to unplug during your stay the SmartTV with DirecTV Now, Netflix, Amazon Prime, and WiFi are available. The kitchen has all the basic supplies for those of you who like to cook. Our outside patio areas have a wood burning stove, deck with patio table, cushioned seating and unobstructed views of Joshua Tree NP.
A detached cottage can provide a private bedroom, however, is limited in amenities. The cottage DOES NOT have a private bathroom or running water. The cottage is fully furnished and equipped with wood floors, cathedral ceiling, queen-size bed, ceiling fan, WiFi access plus climate controlled mini-split system with air conditioning and heating.
The cottage provides its own patio with deck and pergola making it the perfect satellite bedroom. With great views, this extended space provides additional accommodations for larger groups or those seeking a bit more privacy than the sofa-sleeper of the cabin. The cottage sits about 30 meters away from the cabin and is NOT suitable for younger children without supervision. Utilizing the cottage requires special arrangements and is subject to additional per night minimum rate adjustment.
Please note the cottage is ONLY available to guests staying in the cabin with prior arrangements. The property is private and for guest complete enjoyment, the space is never booked to anyone outside of your own group.
views galore ...
With views of Joshua Tree National Park to the south and with snowcapped Mt. San Gorgonio to the west you feel as if you're drifting away from daily life. Choose your patio based on sun or shade desire and watch the hummingbirds, roadrunners, and bunnies snack in the garden! The NiteSky is amazing and perfect for astronomy buffs, and a campfire-ring with bench seating allows the perfect setting to roast marshmallows with the kids.
The cabin is ideally located within a few minutes walk to the Joshua Tree National Park boundary. A close drive to Indian Cove Campground and either the North or West entrance to JTNP is just eight miles away. This rural setting provides incredible privacy but is located close to town so you can plan excursions with ease.
The ten-acre property has expansive views to the south, west, and north; guests are able to walk out the back and explore the hillside and landscape of the desert. The quiet area has a few scattered neighbors which are not in any direct view-shed. This unique property provides natural outdoor beauty with all the conveniences of home.
Rates
June 1 - August 30
$ 99/night Sun – Thu
$ 115/night Fri – Sat
Two Night Minimum
September 1 -October 31
$ 115/night Sun - Thu
$ 135/night Fri - Sat
Two Night Minimum
November 1 - May 30
$ 130/night Sun – Thu
$ 165/night Fri – Sat
Two Night Minimum
Holidays
$ 225- 250/night
Three Night Minimum
Guests Occupancy
Rates are based on double occupancy
$ 35 extra per person per night
Up to Six guests with use of detached cottage
Sorry, No-Pets
Fees and Deposits
$ 85 Cleaning Fee per reservation
$ 500 Refundable Security/Damage Deposit
10.5% Transient Occupancy & TourismTax
In full compliance and inspected for safety with the City of Twentynine Palms.
VHR Permit #029!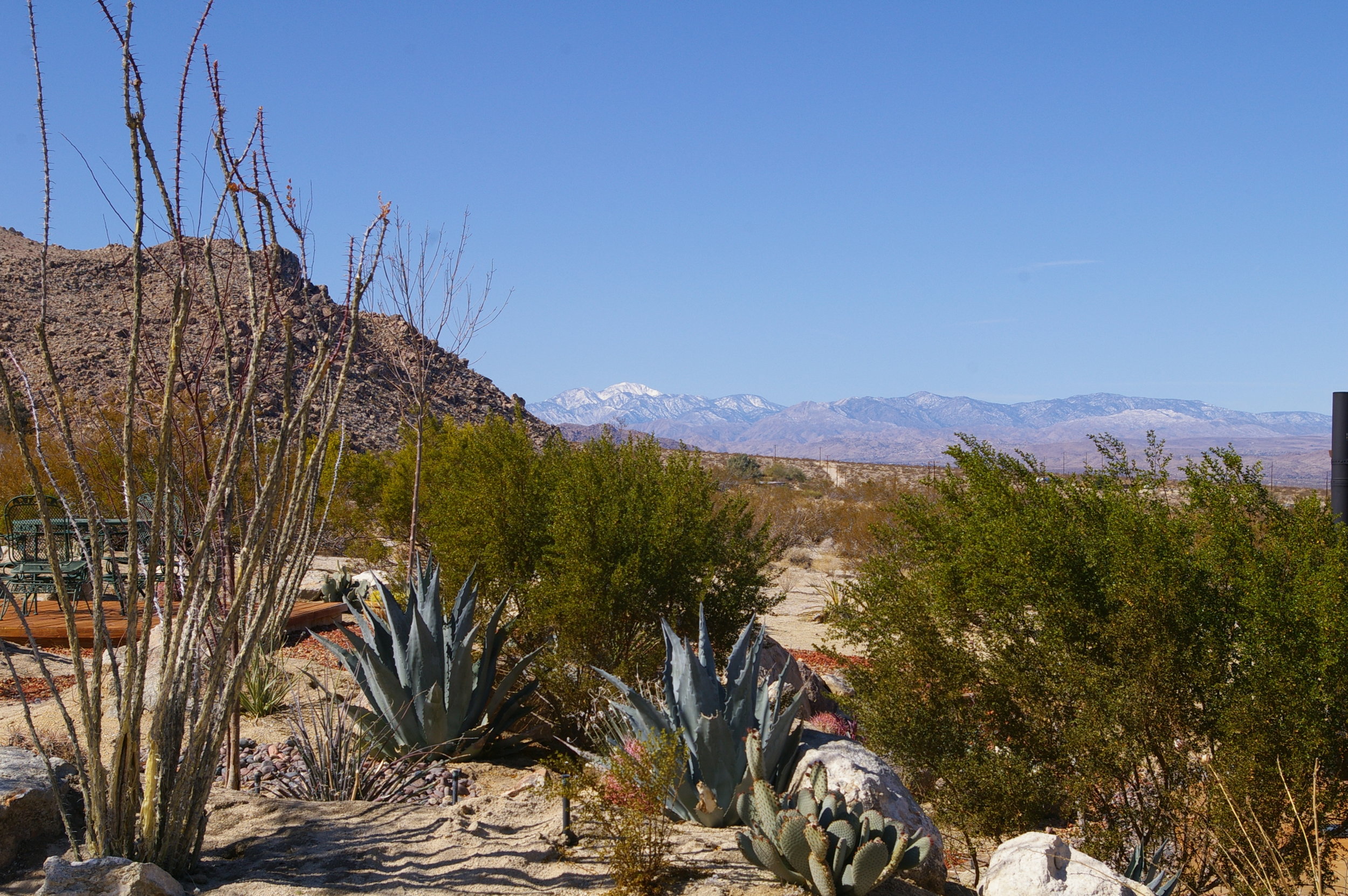 Amenities
• Sleeps up to Six Guests
• Fully Furnished
• Linens Provided
• Guest Bedroom - King
• Sleeper Sofa - Full
• Cottage Bunkhouse - Queen
• Bathroom with Stall Shower
• Complimentary shampoo / conditioner / body soap
• Flatscreen Television
• Standard DirecTV - Netflix - DVD's
• Basic WiFi Internet
• Outdoor Wood-burning Stove
• Scrap Wood
• Paper Products and Detergent Supply
• FirePit with Bench Seating
• Outdoor Eating Area
• Gas Barbecue Grill
• Evaporative Cooler
• MiniSplit AirConditioning/Heater
• Laundry Facilities
Kitchen
• Full-size Refrigerator/Freezer
• Electric Range/Oven
• Microwave
• Drip Coffee Pot
• Espresso Maker
• Coffee and Teas
• Kettle
• Toaster Oven
• Hand-mixer
• Ample Cookware and Utensils
• Bakeware
• Place Settings for Eight
• Foil - Baggies - Convenience Supplies
• Pantry Items - Spices, Oil, Sugar
• Coffee Filters
• Convertible Bar-top for Two
fabulous. Could not be more satisfied!!!!!
"Had everything we needed. Beautiful surroudings. Very very nice property and accommodations. Close to everything yet secluded and peaceful. Wonderful host. Would rent again. Thank you so much.."
~ Kate, HomeAway
...peaceful and isolated ...
"Susan's house is beautifully situated, peaceful and isolated. The house was very clean and had everything one could need for living, cooking and relaxing. Susan was an excellent and attentive communicator. We could not have asked for a better stay or a more responsible host."
~Nicolas, New York
Susan is a great host!
"One of the best places that I have stayed in. The cabin was clean and kitchen stocked. The landscaping was like being in your own little oasis. Susan is a great host! I would highly recommend her place. I will be back soon."
~Cindy, AirBnb
... one of my favorite hideaways.
"It's on it's own private 10 acres. It's nicely laid out, well kept and well appointed. It's equidistant to Joshua Tree and 29 Palms. If you're out playing all day, you know you've got a great homestead upon which to return, and if you want to laze around all day, you know you've got plenty of relaxation stations to do that, too, both inside and out. I've been around the desert, and this is absolutely one of my favorite hideaways. Highly recommend."
~ Warren, (repeat guest)
Cold AC and sparkling clean
"Beautiful property. Close to everything but remote enough to feel like an escape. Susan's communication was prompt and concise. Check in was a breeze. The house was perfect for me and my girlfriend. Cold AC and sparkling clean.
Would recommend to anyone."
~Eli & Maggie, Los Angeles
Great getaway
"The property and experience exceeded all my expectations. It is cozy, comfortable, clean, and exceptionally private. The owners have an eye for aesthetics as both the indoor and outdoor spaces are visually pleasing and simply invite one to slow down and appreciate the present, enjoy the moment. The owner was exceptionally attentive and anticipated all our questions and needs in advance. Outstanding job!"
~ Joshua, HomeAway
Everything you'll need and more...
"This was my first ever Airbnb experience and I must say, it was amazing. Susan was very helpful and answered all my questions. She really went over the top to make our stay special. The cabin itself is beautiful and has everything you'll need and more. We will definitely be back and next time we're bringing our friends to share lovely place! "
~ Shervin, AirBnb
Beautiful cabin near Joshua Tree

"We loved staying in this great little cabin. The kitchen had everything we needed (we like to cook), the bed was super-comfy and, best of all, the views were spectacular from every window!"
~Sue, HomeAway
.... mini version of the Mojave Desert...
"My wife and I were looking for a comfortable home in the Joshua Tree area for a short break over the Thanksgiving Holiday. Located half way between Joshua Tree and Twenty Nine Palms, the Sullivan Cabin was a great choice. From our first contact, Susan was exceptional to deal with. She responded promptly, provided great information and was very helpful. We had previously stayed in five other homes in the area but the Sullivan Cabin was by far the best. The house is very clean, comfortable and well equipped. The landscaping around the house is really well designed and it's like having a mini version of the Mojave Desert with its indigenous plant life right outside your door. The great seating areas outside are also a great place to relax after a day hiking in Joshua Tree National Park and a great vantage point to view the beautiful night sky overhead. We both had a great time at the Sullivan Cabin and plan to return in the future."
~ John, Yelp
What an adorable house!
"The bed and couches were comfortable and the kitchen was a great size. The landscaping was beautiful- even prettier in person than in the pictures! The comfortable outdoor seating was perfect for enjoying the weather and admiring the scenery and desert wildlife. There were two hummingbirds that kept visiting one of the plants right near the house-so cool! We completely enjoyed our stay and would definitely stay again if we're ever in the area! Susan was a great host and was very available to answer questions. Everything about the experience was great!"
~ Leanne, AirBnb

What a Gem!
"This place is super cool. Sits FAR off the road. We rode our motorcycles there. It's very, very private. SUPER clean, well appointed and the cottage has been decorated with perfect taste. The desert landscaping is well done and so pleasant to just relax in. Kinda makes you never wanna leave the backyard. Especially for sunrises and sunsets. It's perfect for two. Susan is just a text/phone call away should you need anything...She gave us so many great ideas for things to do via emails and such. We discovered there was more to do in that town than we had ever imagined. Will definitely be back for another stay at this super cool find deep in the private, silence of the desert!"
~ Jody, Yelp
Pick this house!
"We had an amazing stay in Susan's cabin. The views were exceptional and the house was very well equipped. No detail was missing. The house was totally private yet a short distance to both the 29 Palms and Joshua Tree park entrances. Don't hesitate. Pick this house!"
~Sharon , New York
Great Experience!
"This is a hidden gem! The cottage and cabin are just wonderful and the surrounding garden a paradise. We enjoyed long mornings on the porch seeing hummingbirds in the trees and bonfires at night. Susan is a great host and helped us when our little boy got sick and we had to prolong our stay and get a late checkout. Great experience!"
~ Lene, AirBnb
A-Plus!
"The Sullivan Cabin is a gem and Susan has done everything to make a stay there super special! The cabin was an ideal base for our stay in Joshua Tree and it's sited perfectly for seeing amazing sunrises through the big windows overlooking the valley. A-plus!"
~Jonathan & Patty, AirBnb
... Great Locale ...
Susan wrote a lovely card welcoming us, communicated very clearly and timely, and her place was less than a mile from the highway so easy access. Great locale to visit Joshua Tree National Park and spent some time in 29 Palms area as well. Loved the fire pit and had coffee outside on patio each morning, a very relaxing and quiet place!
~ John, AirBnb
Comfort and Tranquility in the Desert
We had a fantastic stay in the Sullivan Road cabin. All the creature comforts of home, and perfect privacy. We WILL be planning to return.
~ Victoria, FlipKey
Great property for a couple climbers
"I stayed here over the holidays to climb in Joshua Tree. It was fantastic having a warm cabin to come back to. WiFi, Netflix, and even cell coverage were great, and a fire pit and patio furnace made for nice evenings outside.!"
~ Gavvin, TripAdvisors
...one of the cleanest Airbnb spaces I've stayed ....
"Vistas. Open space. Generous patio and outdoor spaces. It was very cold in February but on a warmer day, this place would be perfection. Susan's space was one of the cleanest Airbnb spaces I've stayed at in America. No hair balls in corners, food crumbs on plates and couches, etc. appreciate the care and attention spent on that. Great kitchen and well stocked. Great heating system indoors for cold days and hot water in abundance. Very secluded and perfect for a quiet escape. Strong WiFi and cell coverage. She's very responsive and welcoming. Really enjoyed our stay. Highly recommend."
~ Billie, Airbnb