outstanding mountain views ....
Perched at the edge of a wilderness corridor connecting Joshua Tree National Park to adjacent desert areas, the nearby lands are home to many native plants and wild animals. In the spring and fall, wildflowers and migratory birds are abundant. Countless stars can be seen in the wide night sky view. Please enjoy viewing, but avoid disturbing the fragile plants and wildlife that live in this natural desert wonderland.
The house is a late twentieth-century California ranch home with a passive solar design, updated with an off-grid, solar-powered electrical system, modern appliances, and eco-friendly interior finishes. Your vacation in Joshua Tree is a perfect opportunity to unplug but we do offer WiFi amenities to stay connected if you must. Featuring three bedrooms and two full bathrooms, Sunnyrock Acres is an ideal sanctuary for romantic couples, families, and small groups.
A common room spans a large eat-in kitchen with gas cooking stove and a separate living room with a convertible full-size sofa/futon. Modern heating, cooling, and ventilation conditions the interior space year-round. Outside, the front porch area has 270 degree views of rugged mountain lands. The rock-sheltered backyard features terraced patio areas, secluded wood-fired cowboy tub, with private access to miles of private trails and wild-lands.
As a featured article in Rock and Ice Magazine, October 2017 you can read a bit more your hosts, the home's history, and maybe a bit about finding yourself in Joshua Tree.
six-hundred acres ...
Located in a rock-rimmed valley near the West entrance to Joshua Tree National Park just five miles from the center of Joshua Tree Village, the site includes five acres of gently-sloping, south-facing property with wide mountain views toward the National Park. The setting adjoins 605 acres of undeveloped lands in the Desert View Conservation Area (also known as Section 6), providing immediate access to hiking and mountain biking trails in this remarkable landscape. Nearby access to Joshua Tree NP west entrance is found a favorable 1 mile distant with services, attractions, and events in the nearby towns.
Rates
Standard Rates
$ 250/night
Two Night Minimum
Holidays
$ 400/night
Three Night Minimum
Guests Occupancy
Rates are based on double occupancy
$ 35 extra per person per night
Accommodates Up to Eight Guests
Sorry, No-Pets
Fees and Deposits
$ 100 Cleaning Fee Per Reservation
$ 600 Refundable Security/DamageDeposit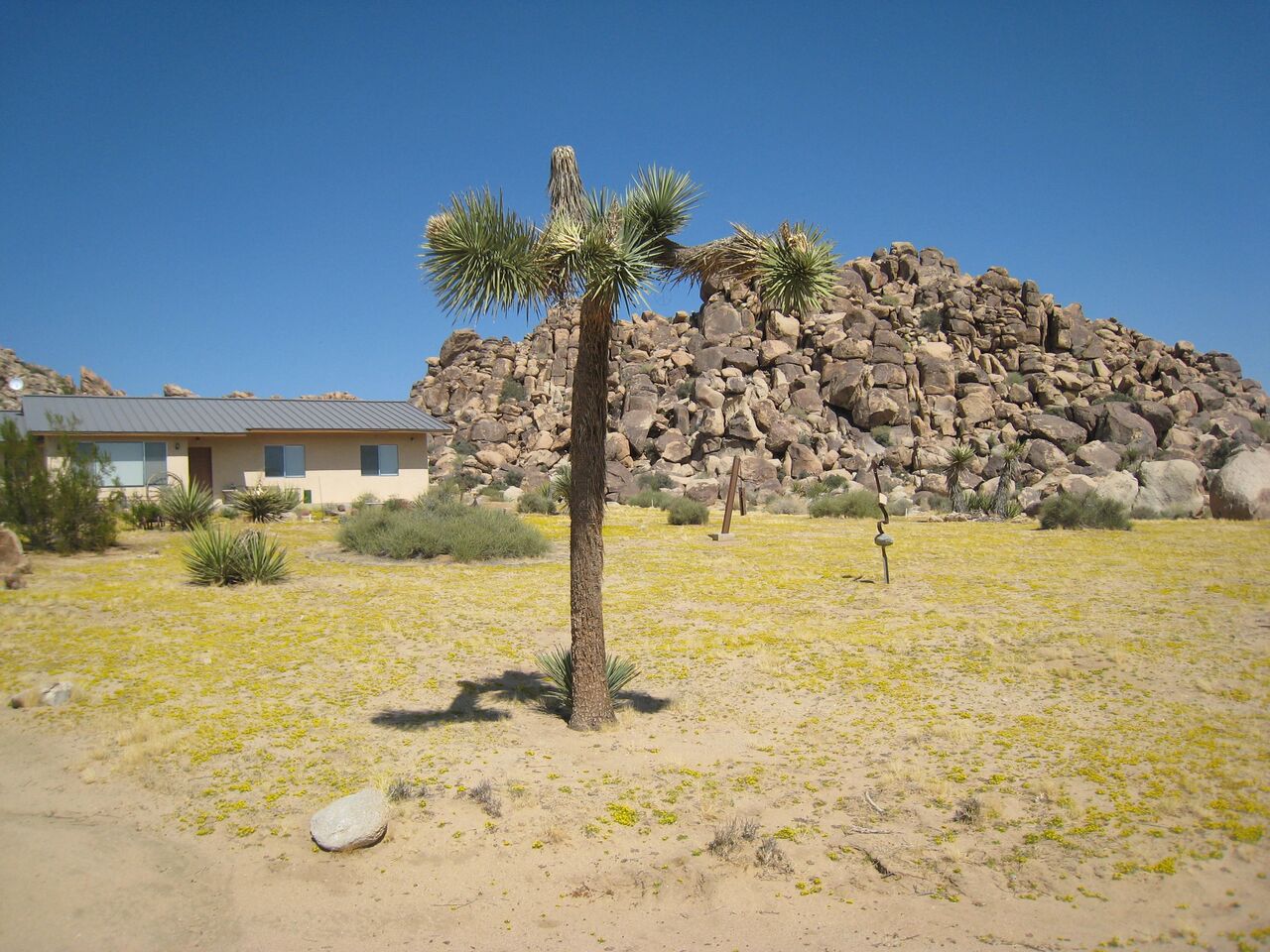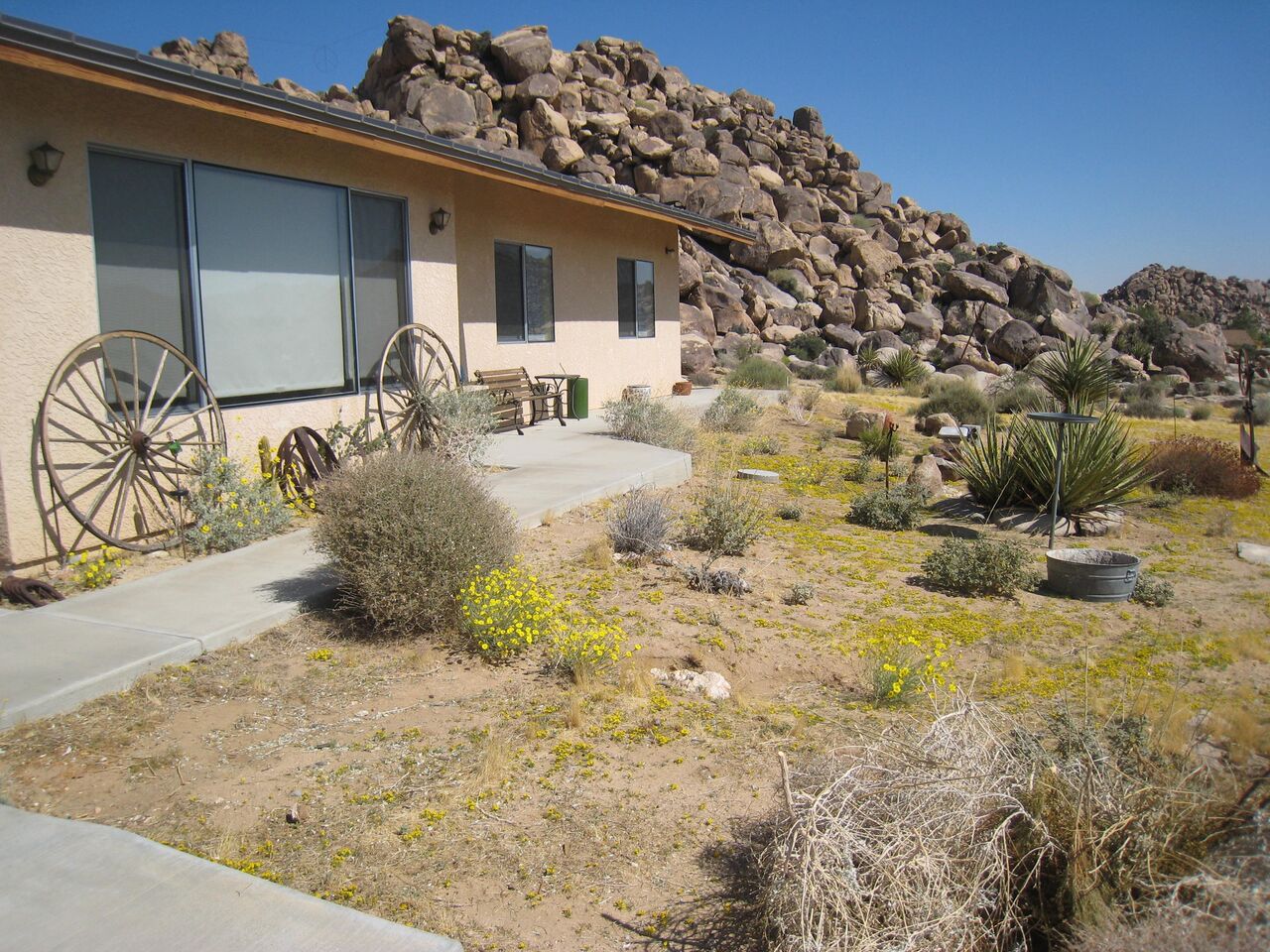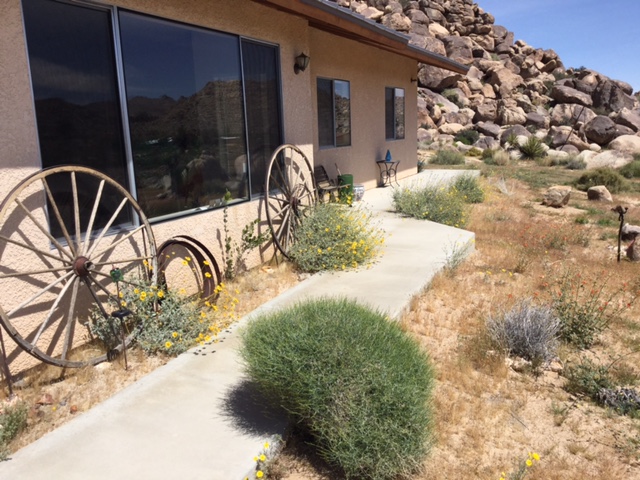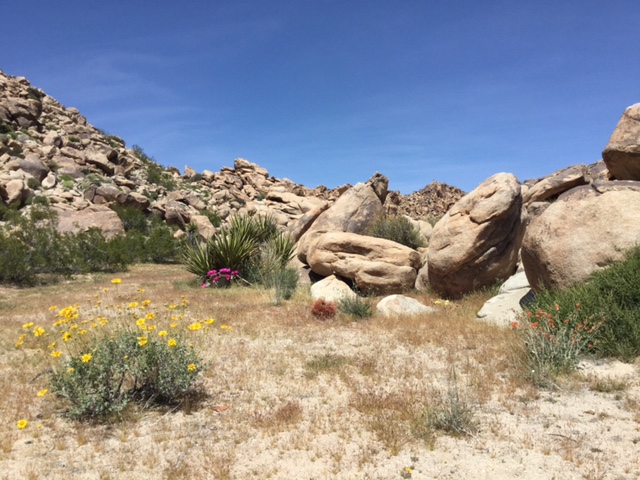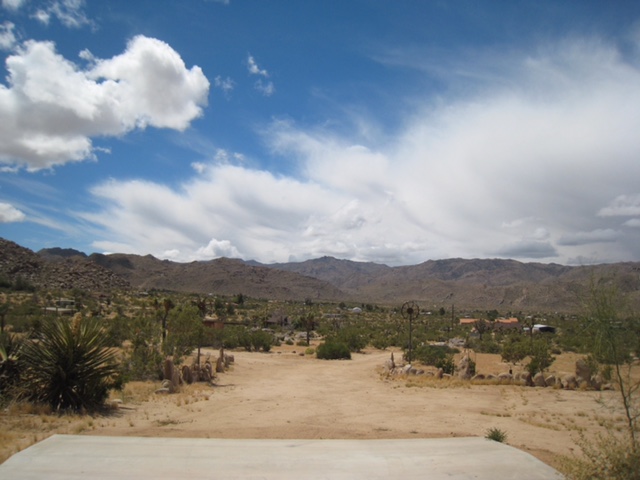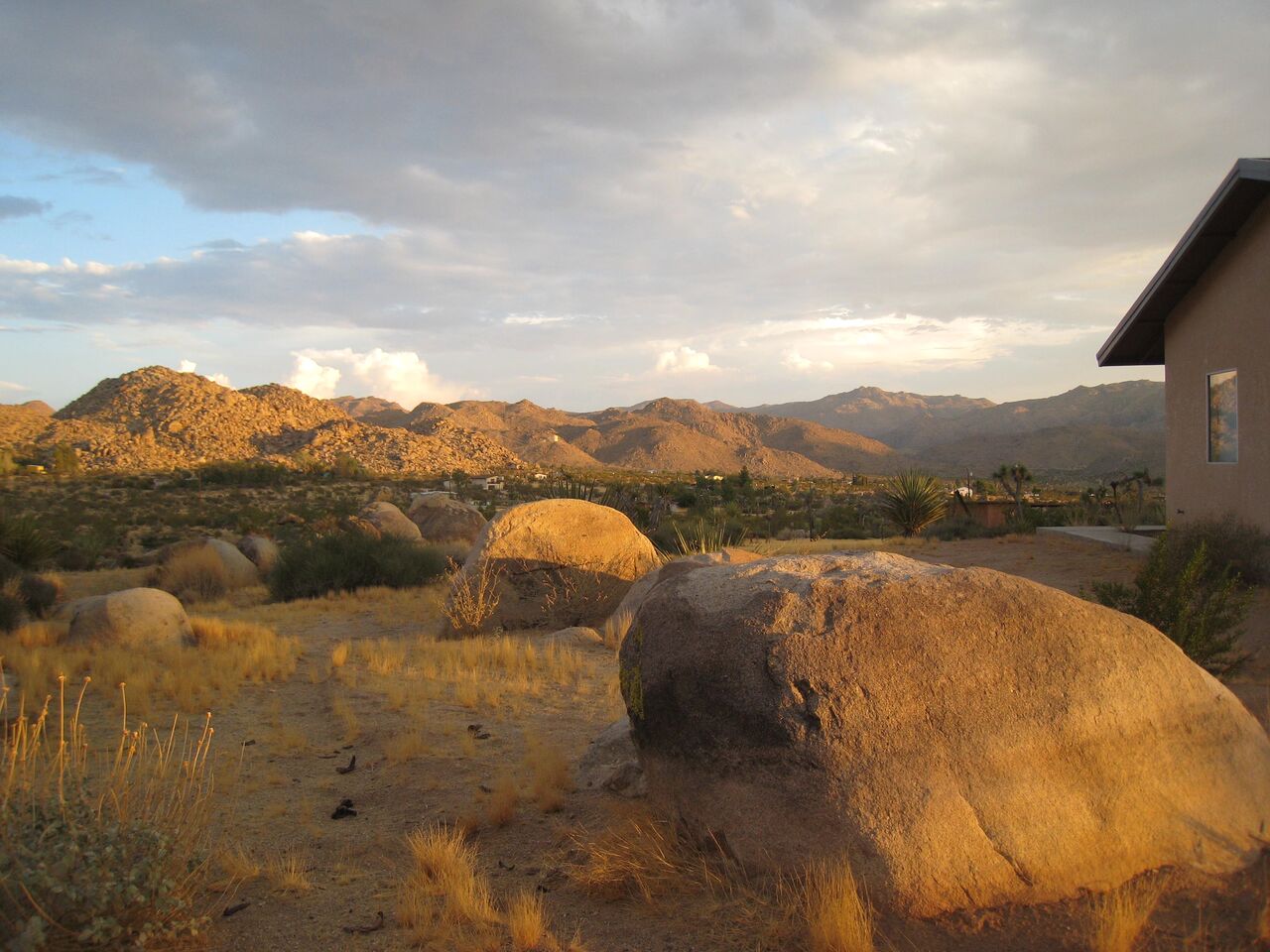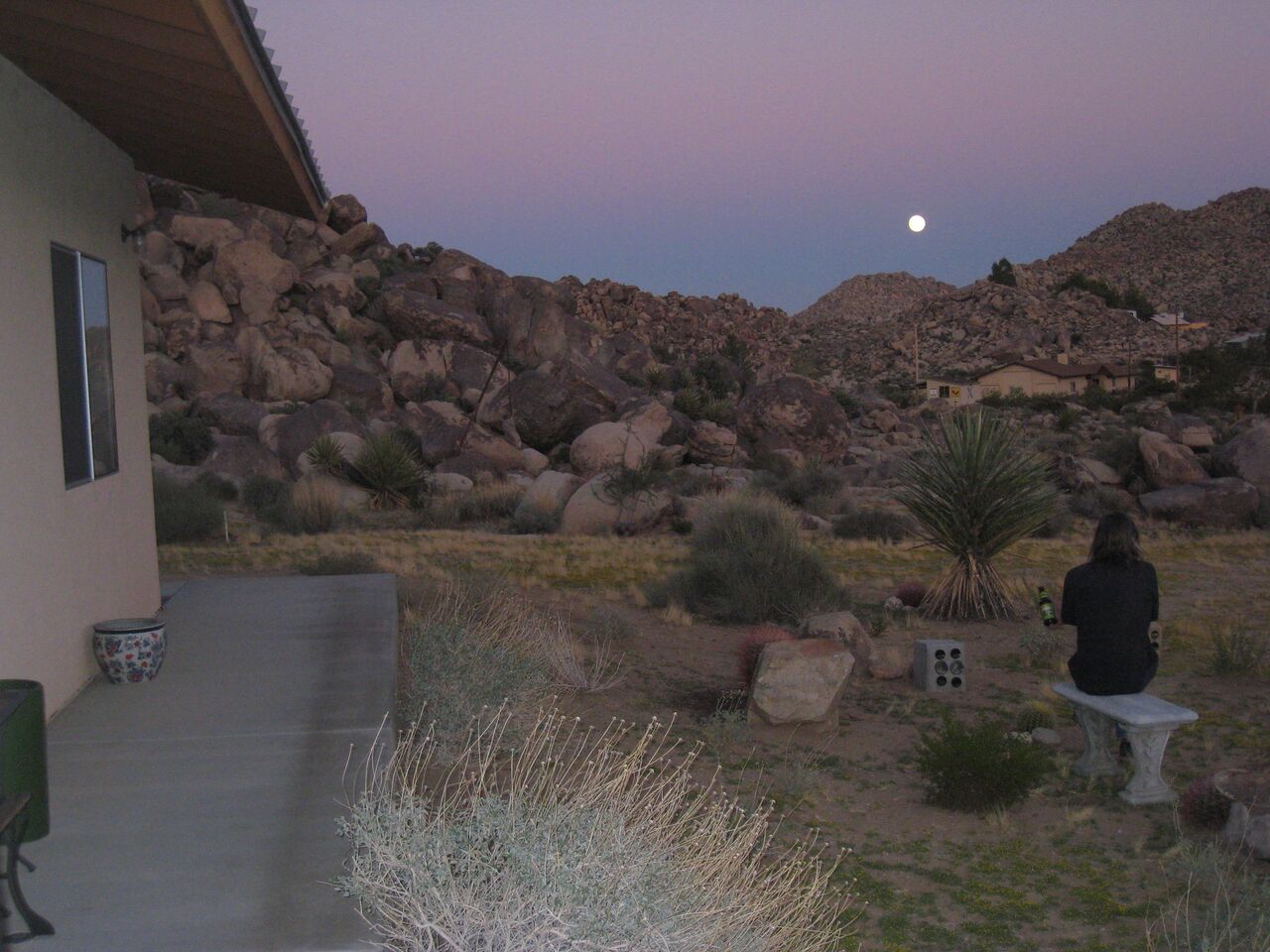 Amenities
• Sleeps up to Eight Guests
• Fully Furnished
• 3 Bedroom, 2 Bathroom
• Green Home by Solar and Propane
• Linens Provided
• Master Bedroom en suite Bathroom - California King
• Guest Bedroom - Queen
• Guest Bedroom - Full
• Family Room - Futon
• Hall Bathroom - Tub/Shower Combo
• Paper Products and Detergent Supply
• Basic WiFi Internet
• Outdoor Wood-burning Stove
• Scrap Wood
• Wood-burning Cowboy Tub
• Covered Patio with Seating
• Refreshing Cowboy Soaker Tub (summer)
• Gas Barbque Grill
• MiniSplit AirConditioning/Heater

Kitchen
• Full-size Refrigerator/Freezer
• Gas Range/Oven
• Coffee and Teas
• Kettle
• Toaster
• Hand-mixer
• Ample Cookware and Utensils
• Bakeware
• Place Settings for Eight
• Foil - Baggies - Convenience Supplies
• Pantry Items - Spices, Oil, Sugar
• Coffee Station
• Dining Seating for Eight
Stunning 360 views
"This house is in the best location for a Joshua Tree getaway. The back yard opens out into an insane rock formation on either side with stunning 360 views. I highly recommend this area, you really feel like you're transported to another world. One of my best stays in Joshua Tree."
Michael, Hollywood CA
This house is magical
"This house is magical. We had a truly amazing stay. Mari provided so many thoughtful touches and amazing amenities. The house was sparkling clean! Our favorite was the wood fired hot tub. being out under the stars at night was spectacular. So close to the park. Highest possible recommendation and great value!"
Heather, San Carlos CA
We had a great time ...
"I'm happy to be one of the first to review Sunnyrock Acres. The house is simple and spacious providing plenty of space for our family. And even though the house was new, it had everything we needed including the most comfortable of beds and delicious coffee! We had a great time and sure you will too. "
~ Alan, Washington
...enjoy the best of life!
"Sunnyrock Acres was a perfect location for our active, food-loving family. Right outside of JTree National Park, we were 10 minutes from the best rock climbing in California. Hiking and biking were literally outside the back door! We worked up an appetite everyday and loved cooking and eating here together. The kitchen is huge and extremely well appointed (as is the entire house ) with a family dining table in the center. Cards were played every night! Really, everything I have at home was in this kitchen. Our holiday meal was a joy to prepare together. We all love coffee and like to make it different ways. French press, drip, or espresso? Take your pick. In the morning, first one up got to make it just the way they wanted. You'll have to stay at Sunnyrock Acres to experience the magic of starlight reflecting off the enormous boulders surrounding the home, fire heated hot tub, and sculpture gardens. We were impressed and inspired by the state-of-the-art solar electric and other off grid utilities that flawlessly provided for our needs. Stock up at the JTree Farmer's Market on Saturday and enjoy the best of life!"
~Lynn Z, Mount Hope KS
Fantastic location !
"We have stayed in Joshua Tree many times but always in smaller rentals or those north of the highway. With a larger group we needed more space and couldn't be happier with the house and fantastic location. We were were minutes away from the park entrance which was ideal as we had early trips due to a very hot summer trip. The house was cool and the perfect spot to enjoy cold cocktails after some warm hiking. Great house and want to return this winter"
~ Sally, West Virginia
Backdoor Boulders
"Arriving to Sunnyrock Acres was easy, leaving was much more difficult. The house sits far away from any neighbors and is very private. From the main room you can't escape the view! We were so taken by the near endless landscape and backdoor boulders we spent most of our time exploring around the property and only made it into the Park one day. We highly recommend the home and are already planning or return! "
~ George & Anna
It's a special place in Joshua Tree
"Stayed here over a long weekend to celebrate a 40th birthday - 4 adults and 2 kids. It's close to the park and town, yet it felt as quiet and remote as places we've stayed that have been much further from town. Mari and Mike fired up the hot tub for us, which was spectacular. The weekend we stayed, we had high winds and even snow flurries for part of the stay, but we enjoyed our time in the house as much as out in the yard and in the national park. The kitchen is large, central, and functional. Great views from every room. Lots to explore on the property, from boulders to Mike's art. Love that the house is off the grid and "green". Mari & Mike were hospitable, offering to help when needed, but also giving us privacy. It's a special place in Joshua Tree."
~ Erica S, Airbnb
Highly recommended!
"The location of Mari's house is incredible - nestled in between some great rock formations for hiking/camping. The house itself was clean and filled with everything you would need for a desert stay. Highly recommended!"
~ Jordan N, Airbnb
Amazing setting ...
"...very well organized and clean house. The setting is unbelievable with rabbits and road runners all over every mornings. Great place to spend time. Amazing setting and views also, super clean!!"
~ John, Los Angeles
Sunnyrock Acres is a little slice of heaven...
"We loved everything about it. It seems like the house was created as a perfect airbnb home. The kitchen has really deep counters, for storing lots of bags of chips; the sink in the kitchen is super wide. There are a ton of hooks in the hallway bathroom. There's everything you need for a group Joshua Tree getaway. But who would want to getaway? You could spend your entire time just at the house and wandering in the open space behind it, playing horseshoes or hanging out under the shade canopy, stoking the cowboy hot tub and staring at the stars, sorting gear in the garage, watching the quail bobble about and the jackrabbits bound around, listening to the coyotes at night and just chilling. It was a surprise (to me) to discover that the house was totally off the grid and we loved that aspect and did not experience any issues because of it. It was also in a perfect location, at the almost-end of a couple of dirt roads, and just before the park entrance. Easy to town, and easy to find. There are so many subtle and lovely things about this place. Can't wait to go back. Thank you, Mari."
~ Keren, Airbnb
Mari was a great host..
"... the house was great! Very clean, and right in the middle of the desert, which was exactly what we were looking for. I hope to be back in Joshua Tree in the coming future!"
~ Carly, Hoboken NJ
Amazing spot...
"Amazing spot with great hospitality, the backyard is great for climbs and the hot tub provides a great spot to watch the sun go down."
~ Owen, Newburyport MA
Sunnyrock Acres is a lovely, peaceful home.
"Mari greeted us on arrival, to say hello and to let us know how to contact her if necessary. Her home is a little way off, within sight. The home itself was spotlessly clean, with everything needed. We loved the hot tub, loved the bedroom with bathroom en suite - it fills up with sunshine in the morning, and provides a glorious view of rocks and stars at night. The home is close to the Park entrance, and in the hilly surrounding landscape, lots of other homes are tucked away. It's not the most isolated location, but was silent - you can't hear traffic or anything but natural sounds and the wind :) The house comfortably sleeps 8, with plenty of room for relaxing and sunbathing on the property. We loved the outdoor sculptures, the cactus and the bird table! We saw huge lizards, a rosy boa and lots of bunnies and road runners. I would recommend this house as a great place to stay for hiking, popping into downtown JT, and generally for a great peaceful desert weekend."
~ Sarah
....pictures don't do it justice.
"We had an amazing time at Mari's place. The pictures don't do it justice. The house is great and in such a beautiful location. Easy trails to walk amongst the rocks and explore. The sunrise was beautiful. Mari introduced herself, showed us a few details about the house (including the cowboy hot tub which was fantastic), and left us to enjoy the space. Thank you Mari for providing a beautiful location for an amazing weekend trip. We would love to come stay with you again."
~ The Lilly-Ortegas, Airbnb
...we all had such a blast! Our own little slice of Joshua Tree for a weekend!
"Everything you want about Joshua Tree is right here, epic boulders, quiet surroundings, fire pit, and of course the wood fired hot tub that is just perfect! The house has a great kitchen and family room, perfect for your friends and family to wine and dine while enjoying stunning views of the valley and the epic boulder mountain behind the house! I could not have imagined a more perfect place!"
~ Brian, Airbnb